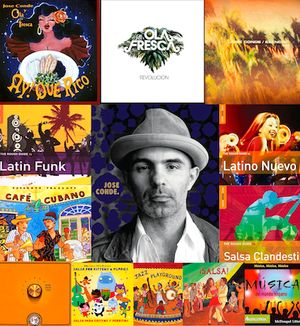 OLA FRESCA means "Fresh Wave"! 
Throughout their glorious 15 year history and 3 world acclaimed original albums, 'freshness" is exactly what this Brooklyn based band has brought consistently to Latin Music. Led by Cuban American composer, singer, songwriter, arranger, multi instrumentalist and bandleader, Jose Conde, Ola Fresca evolved from the rustic Cuban son, cha cha and mambo sound of their 2004 debut Ay! Que Rico, to the funky, eclectic Best Latin Album Winner of the 2008 Independent Music Awards, (R)evolucion. In 2016 their epic Kickstarter funded album ELIXIR fused a "Salsa Dura" two trombone NY sound with Conde's songs of social consciousness and humour. Ola Fresca has meandered through a spectrum of Latin roots styles and instrumental formats and fusing liberally all while making music that has been praised by many such as the NY TIMES for having an "emphasis on songs with characters, wordplay and mild social ideas...good for dancing and thinking!"
Since 2004 Ola Fresca has performed in New York, throughout the US, Canada, Mexico and parts of Latin America. Songs from the first two Ola Fresca albums have been featured in numerous widely released albums, films and TV programs. From features on Putumayo and Rough Guide world music compilations to sync licenses on HBO and British Television programs, and stories on US college and public radio, NPR and BBC, the band has received consistent growing positive international exposure. Notable venues that have featured Ola Fresca include Chicago World Music Festival, Montreal Jazz Festival, NY Central Park Summerstage, Bocafest in Veracruz Mexico, Green Apple Festival Miami, Santa Monica Twilight Dance Series, Kennedy Center DC, NY Global Rhythm Festival, New Orleans Voodoo Festival etc.